Well, we've had a wonderful Christmas and a great New Year celebration. Now the decorations are back in the box, the in-laws have left for Holland this morning, Djerk is back at work, the kids go back to school tomorrow and I'm raring to go! 2012 is going to be an amazing year. As a family we are heading into the year with a few uncertainties (our rental agreement comes up for renewal for one!) but we are on an incredible journey with Daddy God and so those uncertainties don't worry us a bit! We also have some great certainties too! You want to know what they are? When I first started this blog I decided to call it Promises Today. Well, our certainties as a family are God's promises, which are relevant today, tomorrow and for always! Love it! Ready? Here's just a few of the promises…
1. God will love you forever!
Give thanks to the Lord, because He is good. His faithful love continues forever. Psalms 136:1
2. God will never leave you!
…I will never leave you. I will never desert you. Hebrews 13:5
3. God will comfort you!
The Lord will comfort his people. He will show His tender love to those who are suffering. Isaiah 49:13
4. God will help you!
Where does my help come from? My help comes from the Lord. He is the Maker of heaven and earth. Psalms 121:1-2
5. God is always faithful!
What the Lord says is right and true. He is faithful in everything He does. Psalms 33:4
6. God will keep you safe!
The Lord is good. When people are in trouble they can go to Him for safety. Nahum 1:7
7. God keeps His promises!
…the Lord your God is God. He is the faithful God. He keeps His covenant for all time to come. Deuteronomy 7:9
WOW! I can count on 2012 containing the following things – God's love, God's presence, God's comfort, God's help, God's faithfulness, God's safety and certainty that he will keep his promises. Awesome!
With regards to my health, I've been doing really well. My periods are still not what they should be, but I've received great advice from my oncologist Dr Shah (I adore that man!). He said that Tamoxifen is likely just playing around with my cycles and that once I finish the course of Tamoxifen (I have just under 4 years to go) then all will likely return to normal. So he has suggested that any ablation or hormone treatment will not be necessary. I will need to continue to see my gyno, as they will need to keep an eye on the build up of lining. Just in case… I'm ok with that. I have peace now. I'm not worried.
I'm planning on running in the Race for Life in June/July in St. Albans. I weighed myself this morning and I found that I didn't put too much weight on over Christmas, but my weight it still way too high. So, now begins a new healthier lifestyle! Enough procrastination! I'm going to start swimming again (I really miss it actually), walking more, dancing more (I got Just Dance 3 for Christmas – woohoo!), perhaps running (Djerk would like to see me try anyway) and eating healthier. I'm not going to "diet". I hate that word. I know my weaknesses, I know my habits. God, I give it to you right now. Help me to fight through my habits and laziness. I am going to be fitter by the summer. I am going to lose some of this excess weight. My last Race for Life was the summer of 2010. I ran 5km in 57 minutes. Not bad for someone who had just finished chemotherapy for breast cancer huh?!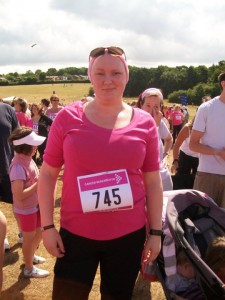 I'm determined to run this year and beat my time. Will you support me? 🙂
I'm also very excited about our new community group at Bethany. Djerk and I will be leading a group, which has multiplied from Matt and Robyn's group. We are starting with around 10 people! Crazy times! Bethany is growing so fast, I love it! We've had some great prophecies over Djerk and I, acceleration being one of them. Woohoo! Bring it on!
I'm also currently working hard with Maizymoo Ltd. I will be sorting out my website shortly, exciting stuff. Before that I have a number of clients to arrange websites for. I love being able to offer simple, no nonsense website design and hosting without the usual high price tag. I'm hoping to expand my client base a bit in the coming months. 🙂
So, that's me. I will try and blog a little more often, for those interested (is there anyone out there reading this?!) and let you know how I get on. For now, I hope your 2012 is looking as exciting and hopeful as mine.
Lots of love,
Hayley
<><